| | |
| --- | --- |
| The Afrodelic Cut Shop/DJ BOZMORI | |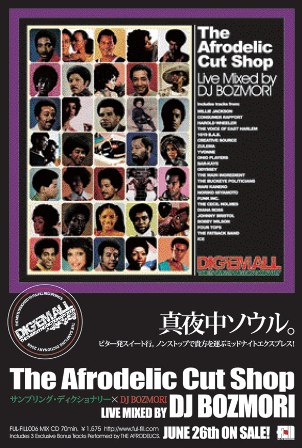 サンプリング・ディクショナリー×DJ BOZMORI
『The Afrodelic Cut Shop』
!!!!!!!!!! 2009.06.26.リリース !!!!!!!!!!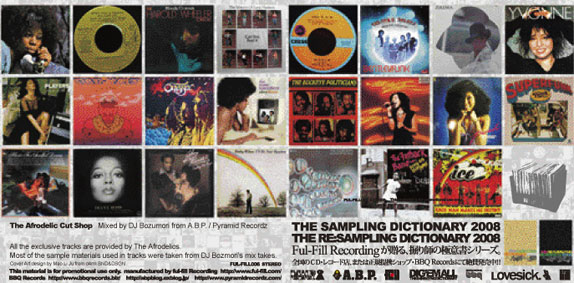 DJ BOZMORI NEW MIX 遂にリリース!!!
70年代を中心に、黒光するアフロ・グルーブから、
往年の甘茶ファンも涙するスィート・ソウルまで余すところなく収録!
もちろん、和皿も絶妙なセンスでMIXされている所は美味!
さらにさらに、The Sampling Dictionary[ful-fill RECORDING]のコラボ作品として、
収録曲よりサンプリングされたオリジナル・トラックが3曲収録!!
生音好き、HIPHOP好き、クラブミュージック好き...
全てのリスナーにお届けする待望の最新作です!!!
1.I CRY/ MILLIE JACKSON
2.GO ON WITH YOUR BAD SELF/CONSUMER RAPPORT
3.BLACK CREAM/HAROLD WHEELER
4.CAN YOU FEEL IT/THE VOICE OF EAST HARLEM
5.WORLD/1619 B.A.B
6.FUNKY LUVAH/CREATIVE SOURCE
7.THIS CHILD OF MINE/ZULEMA
8.HOW LONG/YVONNE
9.TIME SLIPS AWAY/OHIO PLAYERS
10.OPEN YOUR HEART/BAR-KAYS
11.DON'T TELL ME.TELL HER/ODYSSEY
12.WORK TO DO/THE MAIN INGREDIENT
13.LONELY STRANGER/THE BUCKEYE POLITICIANS
14.WHAT'S GOING ON/MARI KANEKO
15.MY LIFE/NORIKO MIYAMOTO with ISAO SUZUKI
16.I'M GOING TO LOVE YOU/FUNK INC
17.I'MGONNA LOVE YOU JUST A LITTLE MORE BABY/THE CECIL HOLMES
18.ONE LOVE IN MY LIFETIME/DIANA ROSS
19.I WOULDN'T CHANGE A THING/JOHNNY BRISTOL
20.DON'T SHUT ME OUT/BOBBY WILSON
21.TELL ME YOU LOVE ME/FOUR TOPS
22.LOVE/THE FATBACK BAND
23.ONE CHANCE/ICE
[Bonus track]All tracks are produced by AFRODELICS
24.IT AIN'T HARD TO TELL /NAS(AFRODELIC MIX)
25.LOVE H.E.R.
26.OUTRO-CAN YOU FELL IT
FUL-FILL006 MIX CD 70min.
TAX IN ¥1.575